Cory Harris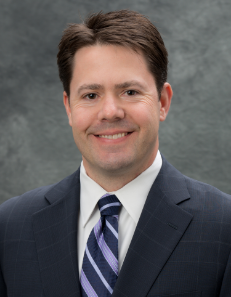 President & CEO
Wellmark Blue Cross and Blue Shield of Iowa
As the president and chief executive officer for Wellmark Blue Cross and Blue Shield, Cory Harris leads the company's efforts to improve the health and wellness of Wellmark's members and the Iowa and South Dakota communities they call home. Wellmark is an independent licensee of the Blue Cross Blue Shield Association and is the largest health insurer and benefits administrator in Iowa and South Dakota.
Having spent much of his career shaping policy and improving operational efficiencies in health care, Cory brings a unique perspective to understanding the complexities and seizing opportunities within Wellmark's highly regulated environment. His unwavering focus on the foundation of the company — doing what is in the best interest of Wellmark's members — is the cornerstone of his leadership and efforts to support Wellmark's vision of creating a sustainable health care market.
Cory also leads several of Wellmark's affiliated entities, including as chairman, chief executive officer and president of Wellmark Health Plan of Iowa, Inc. and chief executive officer of Wellmark of South Dakota, Inc. He also chairs the board of directors of The Wellmark Foundation, a private, nonprofit foundation whose mission is to fund initiatives that support community-based wellness and prevention to positively impact the well-being of Iowans and South Dakotans.
Cory joined Wellmark in 2011 as executive vice president and general counsel, and held a variety of roles within the organization until being named president and CEO in 2021.
Outside his work at Wellmark and serving its members, Cory is on the board of directors of the Blue Cross Blue Shield Association (BCBSA) and is a member of the BCBSA FEP Board of Managers. He is a member of the National Institute for Health Care Management (NIHCM) board of directors, a nonprofit, nonpartisan organization dedicated to transforming health care through evidence and collaboration. Cory serves on the executive committee and board of directors of the Greater Des Moines Partnership, an economic and community development organization formed of the metro's business, civic and community leaders and industry experts. And he is also a member of the Iowa Business Council, a nonpartisan, nonprofit organization that works to identify opportunities to strengthen the state's workforce and overall economic vitality.
He holds a Bachelor of Business Administration degree from the University of Iowa, and earned both his Master of Business Administration degree and Juris Doctorate from Drake University, where he graduated with high honors and Order of the Coif.