John Forsyth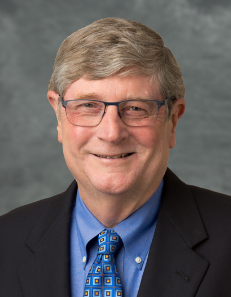 Chairman & CEO
Wellmark Blue Cross Blue Shield of Iowa
John Forsyth is Chairman and CEO of Wellmark, Inc. Wellmark is the largest health insurer in both Iowa and South Dakota and issues or pays health benefit claims for more than 2 million Iowans and South Dakotans. Before joining Wellmark, Forsyth served in a variety of executive roles over a 26-year career with the University of Michigan. In 1985, he was named president and CEO of the University of Michigan Health System, one of the largest and most prestigious health systems in the nation.
Forsyth joined Wellmark as CEO in August 1996 and was named chairman in 2000. During his tenure, he has repositioned Wellmark Blue Cross and Blue Shield as a health improvement company dedicated to serving the people of Iowa and South Dakota. Under his leadership, Wellmark has achieved exceptional operating efficiencies and results. As testament, Wellmark's administrative costs and rates now rank among the lowest in the nation.
Believing that the extensive health care data maintained by Wellmark can be a powerful catalyst for action to improve community health, Forsyth has transformed the company's sharing of appropriate information with community leaders, policymakers, customers, and others. Complementing this approach, the company is currently on a journey to build a sustainable health care system by reducing the rate of increase in medical expenses and reducing the average rate increase to the level of the Consumer Price Index (CPI). A significant component of this work includes improving the well-being of all Iowans. Forsyth is a leader in the effort to make Iowa the Healthiest State. This effort has a significant emphasis on changing the environment in which Iowans live, work and play.
The Wellmark Foundation, under Forsyth's leadership, focuses its philanthropic activities on health improvement and community wellness for all Iowans and South Dakotans. Through the BluesCare Giving employee philanthropy program, The Foundation awards approximately $1.5 million annually to nonprofits through employee volunteer hour designations and matching gifts. In addition, the Foundation has funded more than 500 grants to Iowa and South Dakota organizations totaling more than $22 million since the Foundation was formed in 1991.
Forsyth served on the Detroit Branch of the Federal Reserve Bank of Chicago board of directors from 1992-1996 and was Chair from 1995-1996. In April 2000, at Governor Tom Vilsack's request, Forsyth led a state-wide task force on teacher compensation, which resulted in precedent-setting changes to teacher pay in Iowa. In April 2003, he was named by Governor Vilsack to the Iowa Board of Regents, and served as president of the board from April 2004 to January 2005.
Forsyth has served as president of the Federation of Iowa Insurers and is a member of the Iowa Business Council, serving as chair of that organization in 2004. In September 2003, he was elected to the board of directors of Baxter, International, Inc., and in May 2004 was named chair of the compensation committee, a position he holds to date. In July, 2015, he was named to the Baxalta Inc. Board of Directors and chairs their compensation committee. He is a member of the National Institute for Health Care Management (NIH CM) board of directors, and served as chair from 2008-2011. In 2008, he was named to the initial board of directors of the Association of American Medical Colleges, (MMC) and chaired their investment committee. In 2011, Forsyth became the first public member to sit on the Board of Directors of the American Board of Radiology Foundation. Forsyth served, and continues to serve, on numerous committees of the Blue Cross and Blue Shield Association, and from November 2013 to November 2015 served as chair of that board.
In October, 2010, Forsyth joined the REACH (Realizing Education and Career Hopes) Board, which is a college program for students with learning and cognitive disabilities that is affiliated with the University of Iowa, serving on that Board for three years. He has also chaired the board of directors of the Greater Des Moines Partnership, United Way of Central Iowa, and the Variety Club Annual Telethon. In November 2008, Forsyth served as co-chair of the NAACP Des Moines Branch's 33rd Annual Freedom Fund Banquet. Under his leadership, Wellmark has received the 2008 Better Business Bureau Integrity Award, the 2009 Sioux Empire Society for Human Resource Management Workplace Excellence Award, the 2010 Greater Des Moines Partnership Diversity Award, and the 2010 NAACP Merit Employer Award. In 2011, Forsyth was a recipient of the Diversity Journal CEO Leadership in Action Award and in 2017 was inducted into the Iowa Insurance Hall of Fame.
A native of Saginaw, Michigan, John Forsyth holds a bachelor's degree in business administration and a master's degree in economics from Michigan State University.