Clay Holderman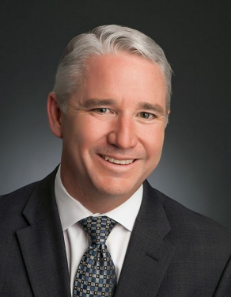 President and Chief Executive Officer
Clay Holderman, MBA was named President and CEO of UnityPoint Health in February 2021. He previously held the role of Executive Vice President and Chief Operating Officer at Presbyterian Healthcare Services, a $4.8 billion integrated payor-provider health system in New Mexico, where he oversaw all care delivery operations, information technology, real estate and development, payor-provider integration and new ventures. Holderman has held executive leadership roles in both investor-owned and not-for-profit health systems, including multiple Hospital Chief Executive Officer roles for LifePoint Hospitals and Ardent Health.
At Presbyterian, Holderman oversaw nine hospitals, an 1,100-member statewide multispecialty practice, three ambulance companies and several large home health agencies. He led the development of two de-novo hospitals and was instrumental in driving growth for the system from $2.2 billion to $4.8 billion in net revenue. He led significant initiatives in clinical service line implementation, labor and supply chain cost management, ambulatory site of service shift to lower total cost of care and a portfolio of new business development and acquisitions. Holderman also contributed to work addressing social determinants of health in order to reduce disparities in health outcomes and the cost of care for New Mexico's most vulnerable populations.
During the SARS-CoV2 pandemic, Holderman served the State of New Mexico as the Health System Advisor, organizing the state's competing hospitals into a hub and spoke model with a single transfer center for all critical care admissions statewide. He served as Presbyterian's Area Commander for the pandemic throughout 2020, including recovery of operations to near pre-pandemic levels by August 2020. Holderman is most proud of the move the leadership team initiated to elevate workforce wellbeing to a board-level strategic initiative, lifting provider satisfaction from the bottom decile to national median and workforce engagement from the 26th to 67th percentile in four years.