Raj Kalathur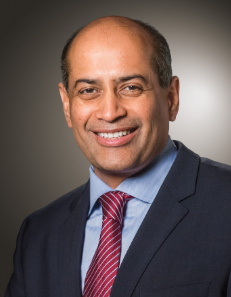 President, John Deere Financial, and Chief Information Officer, Deere & Company
Raj Kalathur is President, John Deere Financial, as well as CFO for the enterprise. Raj is responsible for ensuring that John Deere's equipment customers throughout the world have ready access to competitive financing.
Since joining John Deere in 1996 in finance, Raj has held positions of increasing responsibility in the areas of finance, business development, logistics, operations, marketing, and general management in the U.S. and Mexico. He held assignments at Deere & Company as well as the Agricultural & Turf Division.
In 2005, Raj led an initiative to set up the John Deere Technology Center in India and subsequently led the integration of the Indian tractor joint venture. He was named Managing Director and CEO, John Deere India, in April 2006, with responsibility for the company's business activities there.
Raj was appointed Vice President, Sales & Marketing, China/India/South and East Asia/Sub-Saharan and South Africa, for the Agriculture & Turf Division in 2009. He was named Deputy Financial Officer for Deere & Company in 2012. Most recently, Raj served as Senior Vice President, Chief Financial Officer and Chief Information Officer.
Raj is a native of India and a U.S. citizen. He has a master's degree in industrial engineering from the University of Alabama and an MBA from the University of Chicago.